The national government is planning to change the application procedure for the Higher Education Loans Board (HELB).
In the latest set of measures, the government seeks to ensure access for those who have been excluded from the process.
In the new proposal contained in the Higher Education Loans (Amendment) 2021, students without a national identity card will be allowed to apply for the loans.
HELB Chief Executive Charles Ringera speaking to the media in November 2019.
The standard
This means that students will be able to apply for the loans using their parents' national ID cards where their parents will be listed as co-signers.
Currently, applicants under the age of 18 are locked out, exposing them to financial hurdles while disrupting their studies.
HELB loan applicants are required to provide their national identification number and that of their parents on the council's online portal.
"This will ensure that university students who have not reached the age of eighteen and who do not yet have a national identity card will have access to loans for higher education," the project memorandum states. of law.
HELB funds students with a loan of up to Ksh 70,000 which is repaid after the candidates graduate. Loans should cover tuition fees and personal needs.
This decision is a relief for thousands of students who in the past have been excluded from the application process, forcing them to seek another source of funding.
In September, thousands of students were absent for not having identity cards, prompting the national government to intervene.
Loan repayment lately has proven to be a headache for most students with the government coming up with a new law to deal with it.
In the latest initiative, the University Fund, which is responsible for determining the funds paid to institutions, seeks to compel public higher education institutions to guarantee jobs for graduates.
Under the proposal, universities whose graduates fail to find jobs within four years of graduation will have their funds cut.
"Performance-based funding is funding aimed at allocating part of the education budget of universities according to specific performance measures. This makes the allocation of funds more transparent and competitive," the University Fund said in its proposal.
"Key performance indicators to consider will be four-year graduation rate, graduate employability rate (one year after graduation), and research inputs."
This is to ensure that most students apply for the loan and repay on time.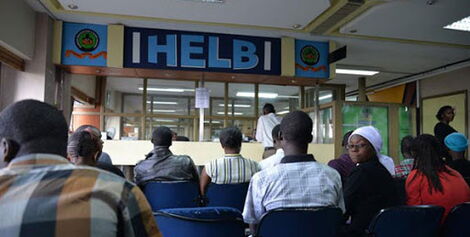 Kenyans waiting for service at Helb offices
business daily